Exhaust Systems
Rail System
When it comes to designing the exhaust system for your shop, there are many factors to consiider and many options available. From Inground and Through-The-Door Systems to Overhead systems with Drop, Telescoping or Rail Systems (picture at left).
Let us help design the system for your shop.
Call us toll free at 800-7-LAPPEN (800-752-7736)
In-ground Systems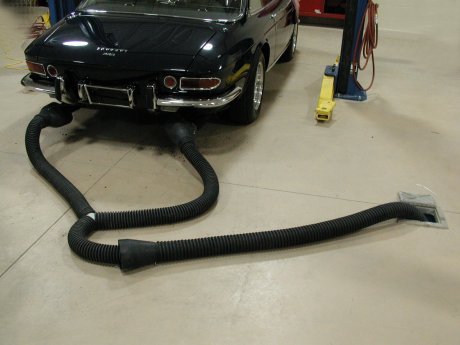 The premier method of fume extraction. Efficient, cost effective, trouble-free and very un-obtrusive. The polymer under-floor fitting, gives you a lifetime of trouble free performance. No more cave-in's when the fitting rusts thru!

Cost? Floor systems are less expensive than overhead systems and perform 20% better!

Available in 3", 4", 5" and 6" sizes. From the smallest passenger car to High-output diesel engines, Harvey does them all.
Suspended Systems

Ideal for retro-fits, the suspended systems are available from 3" Neoprene hose thru 6" Hi-temperature Silicon Fiberglass reinforced hose.

Systems include hose, Adapter fitting to vehicle and adapter fitting to ductwork stub.

Accessories include pull-up systems, additional hose and fittings.
Telescoping Systems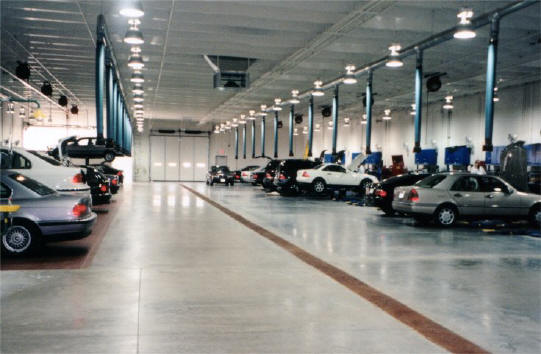 Telecsoping drops offer the benefit of a professional neat appearance while providing maximum flexibility.
Available in 3" and 4" sizes